PIM integrations with Magento, Prestahop, Woocommerce, Storeden and Shopify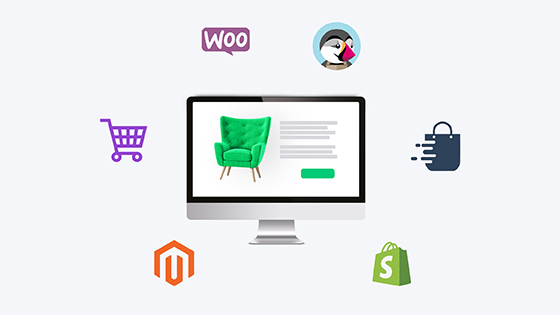 E-commerce and PIM: perfect integration
Product information represents the greatest value of a company, digitizing this data means building a solid foundation for every present and future sales tool. Today we know e-commerce and marketplaces, for which it is essential that all product information is correct and aligned, but tomorrow we do not know which other distribution channels will be able to develop to remain competitive on the market and increase their turnover.
This is why it is essential that companies not only have a PIM Product Information Management to digitize the information of their products and make them updated and synchronized on all communication and sales tools.
PIM Easy and secure integrations with Magento, Prestashop, Woocommerce, Storeden and Shopify
By integrating your e-commerce with the PIM On Page, you will be able to automatically manage all product information and use a single tool.
On Page® integrates perfectly with major e-commerce and with the very Italian Storeden®, allowing the import and management of all product information from its cloud software to the e-commerce platform.
A single source in which to manage all the attributes of your products, categories, all digital assets, automatic translations, all SEO optimized for search engines. A quick and easy integration that allows you to share your products with the major marketplaces on the market!
Publishing and synchronization
With just a few clicks, publish and massively update product information in your online shop with the most intuitive PIM for e-commerce there is. No more errors or typos due to different communication tools: your e-commerce, your app and your digital catalog will always be updated in real time.
Update your e-commerce database with a quick and easy-to-use PIM, starting from the documents you usually use in the company, thanks to native integration with MS Excel. Importing thousands of products, technical features, variants, prices and discounts will no longer be a problem.
Manage keywords and tags useful for optimization and positioning on search engines. Let your potential customers find you thanks to the SEO features of the most Google friendly PIM for e-commerce. Do not lose sales because your competitors have taken advantage of SEO optimization and you, on the other hand, have neglected it.
On Page® easily integrates with leading CMSs like WordPress, but the possibilities for communicating with your e-commerce are endless: custom collectors, database table relationships, web services, exports, and more.
Choose the PIM for e-commerce designed to simplify your daily work!
Other articles that
may interest you
Business internationalization
E-commerce and Marketplace
PIM Cloud
PIM Open Source
PIM software
Product catalogs and price lists
Product Information Management
Uncategorized