Company price list: how to create one for each foreign market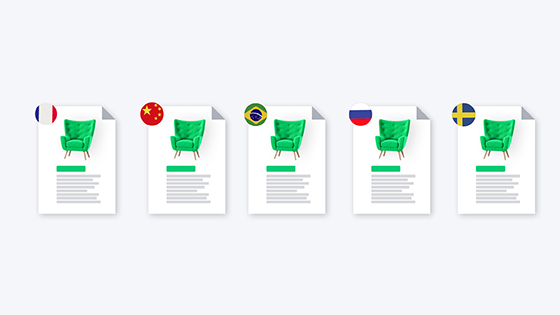 Find out how to internationalize your business thanks to a company price list customized by country.
Creating a price list for your business can be a tricky task! Let's think about the consequences of a trivial misprint. Correcting a single price on a price list page can mean:
print thousands of labels, to be applied by hand on each copy, with a huge waste of time and money;
sending circularswith errata to be sent to distributors, wholesalers, retailers … hoping that they will receive them and put them into practice!
All with consequences ranging from the cancellation of the margin (and therefore of the profit) to the poor figure with the customer.
Furthermore, if your company operates in different countries and markets, you will have to manage price lists with different translations and costs: then multiply the difficulties we have described by the number of versions of your price list, and what you get… it's a big problem!
It is therefore essential to reduce the possibility of errors and speed up the creation of layouts, even in the presence of translations in different languages … but how?
PIM software: the solution for the company price list
The perfect solution is the use of On Page, which through an automatic datapublishing plugin allows you to eliminate typing errors and those due to inaccuracies in the transmission of data between offices.
La sua gestione delle traduzioni tramite frasario, inoltre, ti permetterà di gestire senza fatica i cambi di lingua in maniera del tutto automatica, rendendo facilissima e veloce la creazione dei tuoi diversi esecutivi di stampa. In this image we show you how simple it is to use the phrasebook and you can do it in all languages of the world. Not only that, if you work with a translation agency, you can give direct access to insert texts directly here, without a thousand e-mails, flying Excel or Word files and messed up copy and paste.
Isn't that a great thing? If you want to learn more, read our blog post "How to create a price list in 15 minutes" and you will find out how to say goodbye to weeks of work, errors and typos for the benefit of an impeccable result, saving 80% of the time !
The best way to touch the advantages of On Page for the creation of your company price lists, is to request the dedicated demo with one of our technical consultants, so as to find an answer to every need, even those that seem to be impossible.
Other articles that
may interest you
Business internationalization
E-commerce and Marketplace
PIM Cloud
PIM software
Product catalogs and price lists
Product Information Management
Uncategorized