PIM for e-commerce: internationalization is served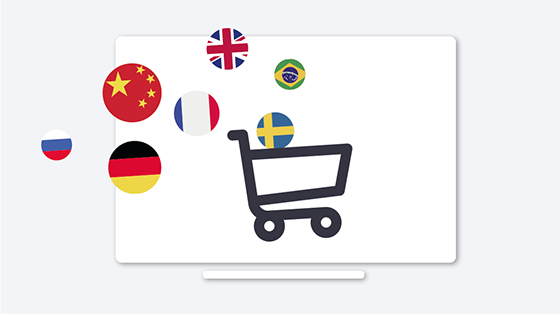 Find out how to conquer foreign markets thanks to the PIM for e-commerce
Do you want to find out what a PIM for e-commerce is and how it can help you internationalize your business?
Did you know that only one month after the start of the health crisis was enough for Italians to make an evolutionary leap towards digital and in particular towards e-commerce? The latter has guaranteed continuity of service for numerous activities that in the absence of it would not have been able to continue billing.
There are 2 million new consumerswho started shopping online from January 2020 to June 2020. According to Netcomm estimates, these figures are attributable to the impact of the Covid-19 health emergency.
A great opportunity has come from a great crisis: the digital transformation of Italian SMEs and beyond. Today we understand that selling at a distance is possible and change is no longer scary, but how can we take a leap towards consolidating the growth of our e-commerce? Only through the conquest of foreign markets.
Read on and you will discover thatinternationalizing your company is easier than you think, that managing multiple markets and multiple languages is not as burdensome and complicated as you think, quite the contrary!
E-commerce: 2021 scenario
Studies done on online commerce show that the turnover of e-commerce salesis growing by about 15% per year, on a global scale.
This figure also seems to bring with it other excellent estimates of what is to come: for the year 2021, b2c sales are expected to reach 6,600 billion dollars. Digital commerce will only know positive signs for the future.
Behind every successful e-commerce there is a PIM
If you are wondering what the secret of the success of an e-commerce is, you will be amazed by the answer: product information management.
Why? Simple, product information is a company's greatest treasure and organizing it correctly in an online shop allows you to overcome the competition and increase your sales.
How? Think about it, would you ever buy a product that lacks essential information, images, perhaps a video with various instructions, attachments such as manuals or data sheets? Then think of foreign markets, did you know that an e-commerce that does not use the local language has only a 1 in 5 chance of seeing its purchased items?
The PIM system is a Product Information Management system, which is a set of collaborative processes and technologies that helps companies organize product data and then transmit them wherever they are needed.
It is therefore an indispensable tool for your e-commerce because from a single and single source, you can manage thousands of products, features, images, videos and above all translations in all the languages of the world. Not only. You can do it remotely, in smartworking, collaborating with different teams without problems.
How to win market share abroad
The greatest opportunity that an e-commerce offers us, and which we must make the most of, is to be able to reach customers even outside our national territory.
If your company has international aims but you are frightened by the idea of having to correctly translate all the products of your e-commerce then you should rely on a PIM like On Page®, which allows you to translate and manage languages in a simplified and immediate way. thanks to his phrasebook.
On Page® allows you to optimize and capitalize on all translations as it has an automatic translation plugin that uses artificial intelligence to check the context of sentences and create ad hoc translations for your e-commerce.
We can improve the quality of translations because we have the ability to translate our sentences based on the context in which we speak.
For example, if your e-commerce has 550 products with the "2cm stainless steel tube" feature, you only need to translate this sentence once to see it automatically updated in all 550 products. Fantastic isn't it?
Product Information Management is also a valuable aid to manage workflows and tasks between different departments, especially if yes works in smartworking or in different locations, because totally in the cloudand therefore accessible anywhere, we explored the topic in the blog post "Pim Software: because it improves workflows and smartworking ".
If you want to conquer new foreign markets and bring your company to the success it deserves, request the free On Page® demo: our dedicated technician will let you discover all the advantages for the e-commerce world.
Other articles that
may interest you
Business internationalization
E-commerce and Marketplace
PIM Cloud
PIM software
Product catalogs and price lists
Product Information Management
Uncategorized